Advocate
Resources for Teachers | Resources to Speak Out for Agriculture
Resources for Teachers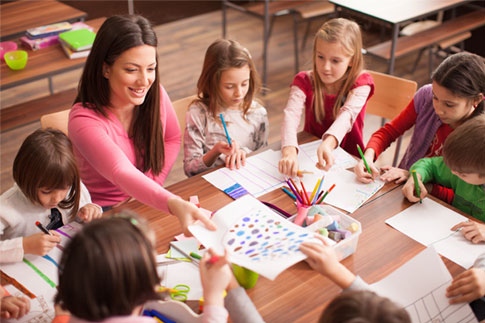 Nutrients for Life
This website is sponsored by the Nutrients For Life Foundation and is chocked full of information about fertilizer for the everyone, as well as, teachers and students. There are lesson plans, online virtual classrooms, media contest information and products to order for FREE!
First the Seed Foundation
This website is sponsored by the First the Seed Foundation and has loads of information, including a Ready-to-Go Curriculum with a free, downloadable Educators Guide that comes with everything you need to get started to teach or about understanding of seeds and their impact on society.
CropLife Ambassador Network (CAN)
This website is sponsored by the Mid America Crop Life Association and offers classroom materials, videos and information about requesting a guest speaker for a classroom visit on several agricultural related topics.
National Ag In The Classroom
The National Agricultural Literacy Curriculum Matrix is an online, searchable, and standards-based curriculum map for K-12 teachers. The Matrix contextualizes national education standards in science, social studies, and nutrition education with relevant instructional resources linked to Common Core Standards. Search the instructional, classroom-ready resources now!
American Farm Bureau
The American Farm Bureau Foundation for Agriculture's My American Farm project teaches agricultural literacy to consumers and the public through an interactive computer game. Players learn where food comes from and how those products get from the farm to their dinner plate. My American Farm is an online educational game that lets students learn about agriculture while having fun. Included are lesson plans, activity sheets, games, economics and videos.
Resources to Speak Out for Agriculture:

About The Talk: www.GiveACrop.org
The Talk campaign was developed by CropLife America to start a conversation about the necessity and importance of crop protection to farmers. Given that less than 1% of the American population works in farming[1], CLA hopes The Talk will help educate consumers about the choices farmers make and bring them one step closer to the farm. All of the videos are posted online, along with other educational materials, including a Myth vs. Fact webpage, Pest-themed gifs and memes, and other resources. CLA encourages consumers, foodies, and other agvocates to use #GiveACrop to speak up and show that you're not afraid to have the talk about the produce you love and the pests you don't.
American Farm Bureau: http://myamericanfarm.org/
The American Farm Bureau Foundation for Agriculture's My American Farm project teaches agricultural literacy to consumers and the public through an interactive computer game. Players learn where food comes from and how those products get from the farm to their dinner plate.
Bee Care Program: http://beecare.bayer.com/home
As a responsible life science company with many years' experience in bee health topics, Bayer understands that healthy bees are necessary, not only as pollinators for sustainable food production and as honey producers but also for the important role they play in many ecosystems around the world. Pollinators face many challenges, with multifactorial issues contributing to poor bee health. Find more information on this website including videos, facts and figures, photos and publications that can be ordered for FREE.
CAN Classroom Presentations: http://ambassador.maca.org/presentations/
Sponsored by the CropLife Ambassador Network (CAN), this website contains all of the basic facts and figures about important agricultural topics that have been put together in a format that's easy to acquire and easy to use. Each presentation is designed to last 30 to 45 minutes and comes with a corresponding script. Although the presentations work best with an LCD Projector (which many schools now have on site) the slides may also be printed on transparency paper and used with an overhead projector.
CommonGround: http://findourcommonground.com/
CommonGround is a group of farmers having conversations about the food they grow and how they produce it. They share personal experiences, as well as science and research, to help consumers sort through the myths and misinformation surrounding food and farming. CommonGround was developed by farmers through two national checkoffs, the United Soybean Board (USB) and the National Corn Growers Association (NCGA). We welcome you to join the conversation – and to enjoy your food without fear.
First the Seed Foundation: https://www.firsttheseedfoundation.org/planting-the-seed/
The First the Seed Foundation is committed to fostering education, outreach, and communication on the value of crops and food produced from seeds. Our multi-year education program makes it possible for students to meet people working in the seed industry so they can ask questions and get a first-hand account of the many opportunities the seed industry has to offer. The ambassador program serves as a unique opportunity to spread the word on the importance of seeds and to get future generations interested in the industry. It's a great way to get involved and engaged with local communities.
GMO Answers: https://gmoanswers.com/
GMO Answers was created to answer your questions about GMOs and make information about GMOs in food and agriculture easier to access and understand. From explaining how GMOs are made and used to providing information about their health and safety, we aim to provide you with important facts about GMOs. On this website will find materials that can be downloaded, printed and used to help you communicate about GMOs. GMO Answers is funded by the members of The Council for Biotechnology Information, which includes BASF, Bayer, Dow AgroSciences, DuPont, Monsanto Company and Syngenta.
Grains for your Brain: http://grainfoodsfoundation.org/
Arm yourself with accurate and common sense information about grain foods brought to you by the Grain Foods Foundation. On this website you will find videos, articles, research studies, infographics and so much more!
Is 2,4-D safe: http://24d.org/
The 2,4-D Research Task Force works closely with regulatory agencies in the U.S. and Canada. We are also committed to working with the public, industry, and agricultural groups to improve understanding of 2,4-D. Over the years, the 2,4-D Research Task Force has developed a variety of materials that include web published backgrounders, stakeholder presentations, synopses of regulatory decisions, and more.
Nutrients for Life: https://www.nutrientsforlife.org
Nutrients for Life Foundation aims to educate about the importance of responsible fertilizer use in growing healthy crops, increasing food production and feeding a growing population. On this website you will find science-based materials to help spread the work of plant nutrient literacy, soil health knowledge and promotion of fertilizer's role in sustaining a growing population. Several resources are available including fact sheets, posters, games for the classroom and many other items that cab be ordered for FREE.
Tell Me More: http://www.croplifeamerica.org/tell-me-more/
Tell Me More is CropLife America's educational program about the benefits of the crop protection industry. Tell Me More aims to educate employees about the crop protection industry and modern agriculture to enhance worker pride and knowledge, and to increase comfort in speaking about the industry and issues surrounding it. Through the materials found on this website, you can educate your colleagues, staff, local civic organizations, or even your next door neighbors, with PowerPoint presentations, posters, fact sheets and more
#AgLoudAgProud Initiative: http://www.croplifeamerica.org/tell-me-more/ (2016 Initiative Tab)
The #AgLoudAgProud initiative is designed to unite those who support U.S. farmers and ranchers, today's agricultural methods and future generations of ag leaders through snapping selfies tagged #AgLoudAgProud and post them to Twitter and Instagram.
#ScienceOrSwat Initiative: http://www.croplifeamerica.org/tell-me-more/ (2016 Initiative Tab)
It's no surprise that politics are running rampant and creeping back into pesticide policyit's an election year! The problem? Politics may trump science and the only tool left for farmers to protect crops may be a fly swatter! Help the nation's farmers and ranchers to keep science out of the hands of politicians so that crop protection tools are not lost. These products are a vital and necessary component of our food system and allow us to benefit from a wide range of healthy and nutritious food choices. Join your voice w/ us to help restore science and clarity to pesticide policy.