Agronomy Conference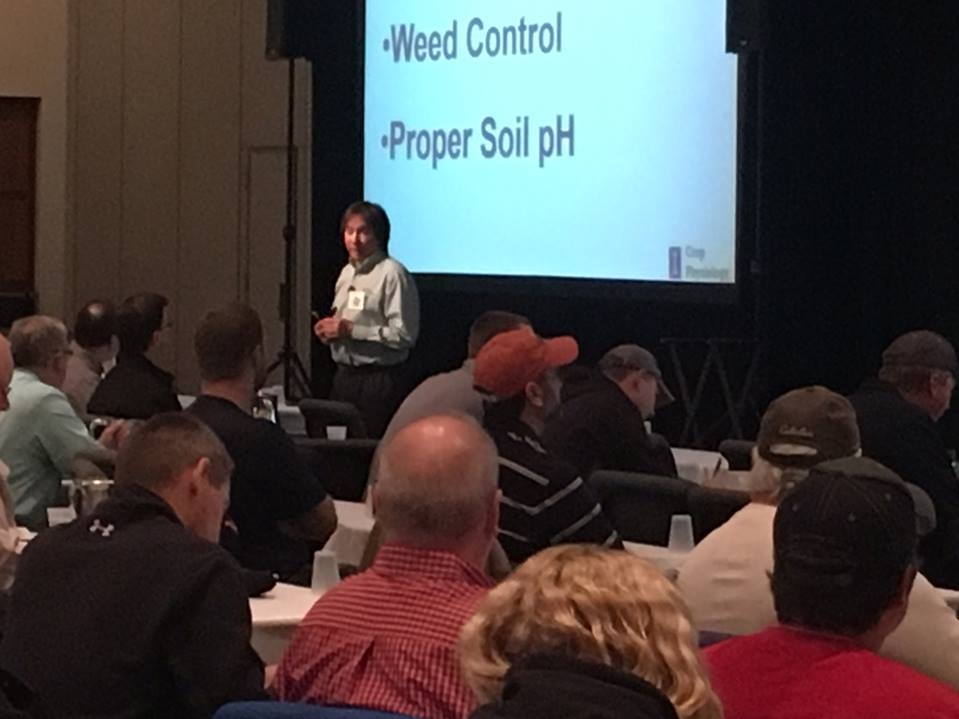 The South Dakota Agri-Business Association is pleased to provide the annual Agronomy Conference in December of each year.
This conference provides an opportunity to learn the latest trends in crop management and production, as well as to earn 20 CCA credits in just two days.
Details of the conference are provided in September of each year, so check back often!
Future Conference Dates
2021: December 15-16
Agronomy Conference 2021

Get ready for the most comprehensive program offered in South Dakota, designed for continuing education of agronomy professionals!
Download the full brochure pdf here.
Leading university experts and industry professionals will be presenters for the two-day conference.
As usual, the conference includes 20 CEUs for the Certified Crop Advisor program and will cover all four performance objectives.
The conference registration fees will be $325 for the entire conference and $225 for just one day. The registration fee includes training, materials, refreshment breaks and lunches.
Seating is Limited - Pre-Registration is Required
You do not need to be a CCA to attend!
4 Ways to Register....
Online: click here
Phone: (605) 224-2445, have your credit card information ready.
Fax: (605) 224-9913
Mail: SDABA, 320 E Capitol Avenue, Pierre, SD 57501

WHEN

December 15-16, 2021
Check-in is from 7:30 to 8:00 AM each day and the presentations will run every 50 minutes from 8:00 AM until 6:00 PM each day.
WHERE

Sioux Falls Convention Center
1101 N West Ave
Sioux Falls, SD
For directions, click here.
A block of sleeping rooms has been reserved at the Sheraton under the "South Dakota Agronomy Conference". Make your reservations by November 17, 2021. Standard room-$99 plus taxes. Book online here.

COST

$325 for both days (20 CEUs)
$225 for one day (10 CEUs)

REGISTRATION

Pre-registration is available here. The Registration fee includes refreshment breaks and lunch for each day of the conference.
The conference begins with check in from 7:30 to 8:00 AM each day.
There will be NO refunds granted unless the conference is completely canceled due to poor weather conditions.
CEU's

Wednesday
Nutrient Management - 2
Soil and Water Management - 3
Pest Management - 2
Crop Management - 3

Thursday
Nutrient Management - 3
Soil and Water Management - 2
Pest Management - 3
Crop Management - 2
Professional Development - 0
PROGRAM


Wednesday, December 15, 2021

Time
Item
Presentation

7:30 - 8:00 AM
REGISTRATION AND CHECK IN

8:00 - 8:50 AM
Winter Wheat Production in a Corn-Soybean Rotation, Nathan Mueller, UNL (1 CM)




8:50 - 9:40 AM
4R's of Better Phosphate and Potassium Fertilization for High Yield Corn, Scott Foxhoven, Purdue (1 NM)




9:40 - 9:55 AM
BREAK

9:55 - 11:35 AM
Weather, Eric Snodgrass, Nutrien (2 CM)




11:35 AM-12:15 PM
LUNCH

12:15 - 1:05 PM
Drainage Design and 4Rs of Nitrogen Management to Optimize Crop Yield and Minimize Nitrate Loss, Matt Helmers, IA State (1 SW)




1:05 - 1:55 PM
Disease Management Update, Daren Mueller, IA State (1 PM)




1:55 - 2:10 PM
BREAK

2:10 - 3:00 PM
ph Challenges/Management, John Breker, Agvise Labs (1 SW)




3:00 - 3:50 PM
Carbon Management/Opportunities, Nick Ward, Ward Labs (1 NM)




3:50 - 4:00 PM
STAND-UP BREAK

4:00 - 4:50 PM
Weed Management, Christy Sprague, MSU (1PM); via video




4:50 - 5:40 PM
Chelates, Ryan Hageman, CHS Agronomy (1SW)




Thursday, December 16, 2021
Time
Item
Presentation
7:30 - 8:00 AM
REGISTRATION AND CHECK IN
8:00 - 8:50 AM
2021 Insect Update: What were the real problems? Adam Varenhorst, SDSU (1PM)
8:50 - 9:40 AM
What Can We Learn from Truck Accidents, Fred Whitford, Purdue (1CM); via video
9:40 - 9:55 AM
BREAK
9:55 - 10:45 AM
Hoses: The Arteries of Application Equipment, Fred Whitford, Purdue (1 CM); via video
10:45 - 11:35 AM
Drones, Mark Asklson, UND (1 PM)
11:35 - 12:15 PM
LUNCH
12:15 - 1:05 PM
Long-term No-till and the Development of Soil Acidity Problems, Cain Jones, MSU (1 SW); via video
1:05 - 1:55 PM
1980-2021: A Summary of Research at NDSU, Jay Goos, NDSU (1 NM)
1:55 - 2:10 PM
BREAK
2:10 - 3:00 PM
Additives vs Adjuvants and Nozzles Selection, Bryan Yount, Purdue (1 PM)
3:00 - 3:50 PM
Cover Crops Influence on Corn Nitrogen Requirements, Jason Clark, SDSU (1 NM)
3:50 - 4:00
STAND-UP BREAK
4:00 - 4:50 PM
Management of Cover Crops with Rotations, Justin Fruechte, Millborne Seeds (1 SW)
4:50 - 5:40 PM
NREC Research Project Update, Peter Kovacs, SDSU (1 NM)